Do We Want to Live in FrackNation?
The new movie, FrackNation, is a propaganda piece that shucks and jives around the truth in effort to assure us we can safely, and should, frack, baby, frack.
This film had its broadcast debut last night on AXS TV. FrackNation is less about the science behind hydraulic fracturing to free up oil and gas from shale rock formations, and more about warped definition of progress and our faith in technological miracles.
Fracking, as it is commonly called, involves directional drilling, fracturing the rock formation, and injecting a mixture of chemicals (some toxic, some carcinogenic), sand and water into the well under high pressure. This method of energy exploration and production came into widespread use in the U.S. only after the industry was exempted from some provisions of the Clean Air Act, Clean Water Act, Safe Drinking Water Act, and Superfund (CERCLA) Act in a piece of 2005 legislation. This is known as the Halliburton loophole, because Halliburton is a huge oilfield services provider making a gazillion dollars fracking wells for the industry. This change in the law was reportedly shepherded by former Halliburton CEO Dick Cheney while he was Vice President of the United States.
FrackNation attempts to assure us fracking is safe and wonderful. It will save family farms from bankruptcy and will power progress. But even after 77 minutes of pro-technology, pro-growth propaganda, one is still left to wonder, if fracking is so safe, why would the industry need those exemptions?
FrackNation is chock full of spin, side-steps and trickery to make you think it has made a solid case for the safety of fracking. Such tricks are easy for me to spot; before I saw the light, much of my career was spent producing spin for big business – including energy and chemical companies. Yes, you can cherry-pick the data and couch your words carefully to give the impression you are debunking environmental or health concerns.
Like the cement casing of these wells that frequently fails, FrackNation is full of holes. I'm tempted to write a minute-by-minute critique (and I may, yet), but today I'll focus on big-picture, philosophical thoughts about the film and the fracking controversy gripping communities around the world.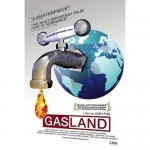 FrackNation is largely dedicated to rebutting the Academy Award nominated 2011 film, GasLand, which drilled serious holes into the reputation of the drilling industry. Millions have seen this film and become concerned about water contamination, air toxification, cancer, neurological damage and other very negative impacts associated with drilling and fracking. FrackNation credits (blames) GasLand for numerous fracking moratoriums in effect around the world today.
You may wonder: How can GasLand make a convincing case for banishing fracking to the history books alongside thalidomide, asbestos and DDT, while at the same time FrackNation argues the exact opposite? Shouldn't it be possible to easily prove one film or the other is patently false?

I can see how Joe, the plumber could emerge from viewing either film thoroughly convinced of that film's perspective. Viewing FrackNation, one would have to have a close eye on her bullshit detector and spin-radar to recognize its case is very weak. I don't think the same is equally true of GasLand. Clearly, GasLand director Josh Fox worked hard to make his case against fracking, and did not go out of his way to offer any information that might raise questions or doubts about that case. This is standard operating procedure for an advocacy film. It has a point of view. I did the same with my film, GrowthBusters: Hooked on Growth. However, I don't think Josh Fox or I stooped to the trickery level of FrackNation director Phelim McAleer.
But I digress. The point I want to make here is that there are plenty of doubts surrounding this issue. Health impacts are difficult and expensive to prove. No one can directly view the migration of water and toxins underground to see where they go. Proving cause and effect with certainty can take years and be expensive and difficult, if not impossible.
Additionally, many players in the drilling/fracking controversy WANT to believe it is safe. If it is safe, that can mean big royalty payments for landowners, tax revenue for governments, profits for many businesses, schools and parks for kids, and cheap gas and electricity for moms and dads.

Worldview also comes into play. The cornucopian worldview has faith that the world has unlimited resources, it is here for us to dominate, we can innovate our way around any limitations, and economic and population growth make our lives better. People with that worldview WANT to believe FrackNation. The pot of gold at the end of the perpetual growth rainbow depends on our ability to forever find new technological miracles to wring more food and energy out of our universe. Surely we're smart enough to find ways to do this safely, or at least limit the damage to "acceptable losses."
Sevareid's Law: The chief cause of problems is solutions.
The scientific/reality worldview depends less on faith and more on what we've been observing as we fill up the planet. Those of us with that worldview recognize the unintended consequences of technological solutions. We know the Earth and its resources are finite, and we believe we have to learn to live within our means on the planet. The message of GasLand resonates with us, because it just makes sense that if you pump toxic chemicals into the ground you are asking for trouble.
It's very likely FrackNation will not change the minds of those concerned about the dangers of fracking. And just as likely GasLand will not influence the drill, baby, drill crowd. It is possible those who are undecided might be persuaded one way or the other if they see only one of these films. But it's more likely their worldview will dictate where they fall on this issue. Only when we have years of solid evidence will worldview play a smaller role.
Finally, some important questions:
Why now does it makes sense to inject toxic chemicals and millions of gallons of water into the ground, passing through our aquifers, hoping it will never leak into our water supply?
Why now is the pressure on to drill in our cities, wildlife refuges, deep water, and fragile arctic environs?
Might the reason be that we have filled up the world, we have extracted the easy, cheap energy, and if we are to pursue perpetual growth the only way forward is to take greater and greater risk?
If so, to what end?
Drilling and fracking may be coming to a neighborhood near you. The risks of drilling and fracking in your town are another cost of growth. Are you benefitting from growth such that you want to take that risk?
Dave Gardner
Filmmaker & GrowthBuster
Trackback from your site.